This Nearly Was Mine: A Novel
by Nancy Farkas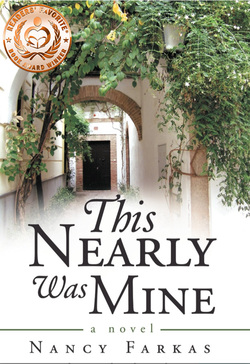 A tale of passion and commitment, this award-winning story explores the conflicts of heart and mind, and the anguish our unlikely heroine feels as she goes through life.

In the summer of 1980, the protagonist, Annie, escapes a doomed engagement by fleeing to the Costa del Sol in Spain. From the moment she arrives, Annie is swept away by the beauty of the mountains and the Mediterranean Sea. There she experiences an all-consuming romance with Francisco, a talented musician with a complicated history. The affair, however, does not last and Annie embraces a stable family life in New York, far from the steamy, tropical paradise she had come to adore.

More than 25 years later, Annie is married to the love of her life, raising three children. Fueled by her mother's stories, her curious teenage daughter seeks out Francisco while backpacking through Spain. Once Francisco reappears in Annie's life, she is overcome with glorified memories of her early romantic past. She begins to second guess every decision she's made and wonders about the life that nearly was hers.

This Nearly Was Mine is a psychologically complex account of the opportunities and obstacles put before Annie and their lasting effect on her life. Endearing and moving, this novel invites cathartic escapism for those who never stopped wondering about how different their lives would be, had they taken that other road.

Nancy Farkas is proud to announce that This Nearly Was Mine was an Amazon best-seller in three Literature & Fiction categories (Contemporary Women, Women's Fiction, and Romance) in November and December of 2015, a 5-Star Readers' Favorite Award Winner, and received the highest recommendation (4 out of 4 stars) from Onlinebookclub.org.
---